Activity Report on 2019
Like many other countries, the Netherlands now finds itself in an unprecedented situation. The government has been forced to adopt a series of measures in response, and many organisations are feeling the impact. Parliament has adapted its working procedures to the situation and so have we.  
Despite the current circumstances, we are today presenting a digital version of our Activity Report on 2019. It contains a list of the audit reports we published in 2019. We issued 57 publications in total: 40 audit reports, 2 web dossiers and 15 letters to the Dutch House of Representatives.
More audit reports published in 2019 than in 2018 and 2017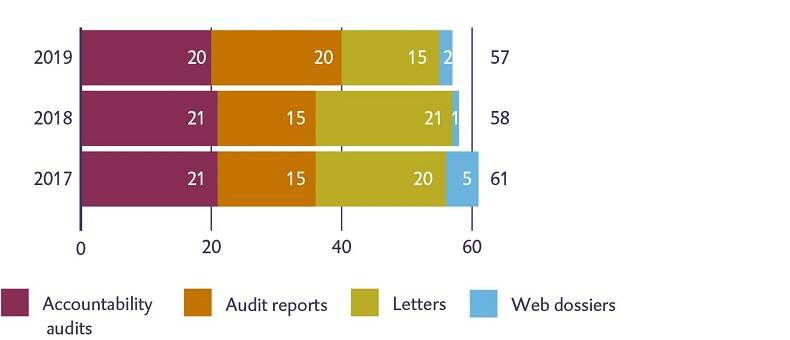 Accountability audit
Twenty of our 40 audits formed part of the 2018 Accountability Audit. Our Accountability Audit Report is published in May every year. It consists of a series of reports in which we assess central government performance. Each of these reports centres on a particular chapter of the central government budget for the past year and examines the way in which the relevant ministers account for their actions in the past year, in the form of a ministerial annual report. In addition to the 20 individual accountability audits, we also published an overall report entitled State of Central Government Accounts and a Report on the National Declaration 2019.
Other activities and audits
The Activity Report also presents a selection of other activities we performed in 2019 including international activities. A number of audits and activities are described in greater detail.
Full Annual Report follows on the third Wednesday in May
Further to the publication of this Activity Report, we will be publishing a full Annual Report on 2019 on Accountability Day, i.e. the third Wednesday in May. The Annual Report contains both information on our publications as well as a section on our operational management. It also looks forward to the future, discussing the development of our strategy for 2021-2025 – a period in which we intend to do our best to achieve our mission of auditing the central government in order to improve its performance and operations.