Policy on care fraud is mainly to hold meetings
Little action on suspected fraud: likelihood of detection low
Measures to combat fraud involving public care funds rarely if ever work in practice. Supervisors and law enforcement agencies frequently consult care insurers and municipalities about suspicious cases but it is unlikely that the fraudsters will be caught. Even when suspicions are very strong, few if any results are booked. The Netherlands Court of Audit says there is a worrying lack of decisiveness.
The Court of Audit investigated the measures taken in 14 cases with strong indications of fraud in 3 care sectors that fraud fighters consider to be susceptible to the misuse of funds: district nursing, youth care and sheltered and supported housing. It also investigated the performance of various partnerships and alliances that have been set up to combat care fraud. The audit found that government organisations exchanged a lot of information but took little action to determine whether or not fraud was actually being committed. Where fraud was detected, it usually did not lead to the fraudster being stopped or even significantly hindered.
Risks to care recipients
The desired integrated approach to combat care fraud, in which supervisors, inspectorates, law enforcement agencies and the Public Prosecution Service decide the most appropriate measures on a case by case basis, is not living up to expectations. Despite the special consultative bodies that have been established, no one takes charge and timely action is not taken. The government is not achieving its goal of significantly reducing fraud with care funds. This is also a matter of concern because vulnerable and needy members of the public can be the victims if, for instance, they receive far fewer hours of care than the care fraudsters charge them. The number of fraud reports is declining on account of a discussion between the organisations concerned on what kind of information may be shared. The organisations often point to each other and consequently fail to respond to many fraud reports. Care insurers are increasingly calling for administrative or criminal interventions, but they rarely take place. A more active approach is frustrated by lack of personnel, difficulty proving fraud or forgery, complex networks of care providers and uncertainty about whether sensitive personal data may be shared.
The supervisors, such as the Dutch Health Care Authority and government inspectorates, moreover, do not have data on how often care fraud is committed. The police and judicial authorities, too, do not have a good understanding of the situation. It is also not clear how much public money is being pocketed by fraudulent care providers. Estimates run as high as several billion euros a year. Care insurers record several tens of millions of euros in care fraud every year.
Policy has little if any effect in practice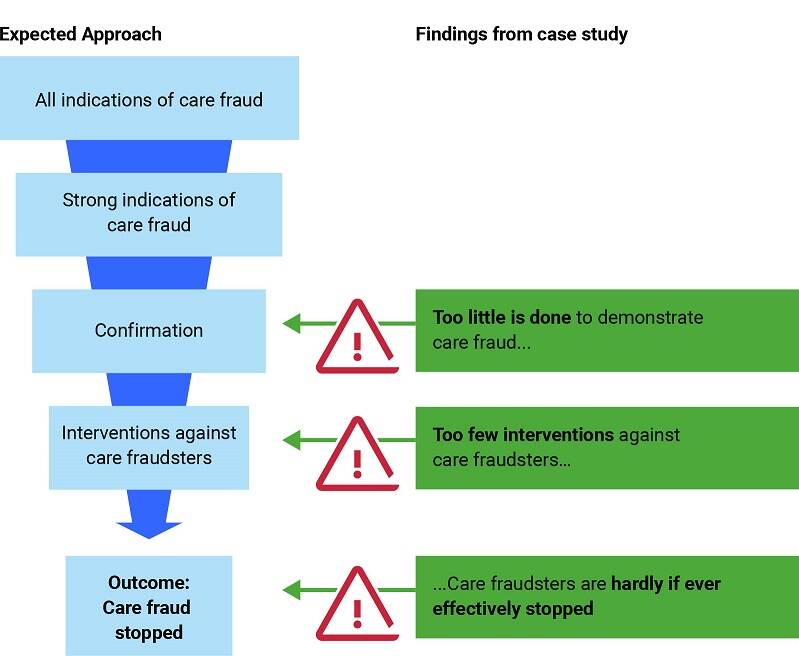 Care insurers are the most active parties in combatting care fraud. In some cases, care insurers and municipalities, which fund a wide range of care services, stop making payments to a care provider and take action to recover their money. Their ability to completely stop fraudsters, however, is limited. Callous fraudsters simply continue their activities under a different name, in a different region or sometimes in a different sector of the care market.
Practical example: A network of care companies providing district nursing, youth care and sheltered housing had been suspected of fraud since 2014. It also allowed dangerous situation to arise. The Health and Youth Care Inspectorate did not take action with the municipality that paid for the care. The municipality and care insurers did not take steps until 2017, when they demanded the reimbursement of their money. Anti-fraud officers discussed the case two years later but could not agree on a joint course of action. It was not until a report of a suspicious transaction involving millions of euros was made in 2020 that the Public Prosecution Service and the inspectorate began to take a serious look at the providers. The providers were still active in the care sector in 2022.