Sharaka conference on UN Sustainable Development Goals (SDGs)
Representatives from seven Arab Supreme Audit Institutions (SAIs) visited the Netherlands Court of Audit last week. Each SAI, including the Netherlands Court of Audit, presented the results of its own government SDG preparedness review. On Thursday, 28 June we organised an international conference entitled 'Universal goals - universal approaches? SAIs and the SDGs' to discuss the SDGs with each other and with Dutch stakeholders such as Statistics Netherlands (CBS), the Netherlands Environmental Assessment Agency (PBL), the Ministry of Foreign Affairs and representatives of local government.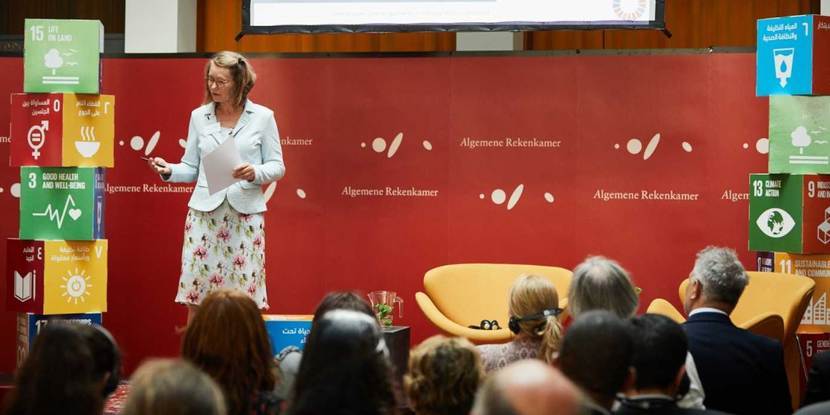 The Sustainable Development Goals (SDGs) are 17 universal and interrelated goals for sustainable development that the UN member states have adopted for 2015-2030. During the conference on 28 June, we and the stakeholders identified the challenges and opportunities for SAIs to contribute to the goals and to monitor and evaluate government measures to achieve them.
Online magazine and speech by Board member Francine Giskes
If you are curious about the conference, we have issued an online magazine.
The keynote speech given by Board member Francine Giskes can be read on our website.
About Sharaka
The government SDG preparedness reviews are the second regional component of the Sharaka programme, a partnership between the Netherlands and eight countries in the Arab region. The attachment includes a practical guide to the preparedness reviews. The Sharaka programme's goal is to improve the operation of public administration and to strengthen public financial management, both in the Netherlands and in partner countries. More information on the Sharaka programme is available on our website.