A report has the same function as a painting or novel
Farewell to Arno Visser
Arno Visser stood down as President of the Netherlands Court of Audit during an extraordinary meeting of the Court's Board on 15 December 2022.  For the occasion, the Board did not meet in its offices on Lange Voorhout, but in the New Babylon conference centre in the presence of staff and former Board members. Mr Visser will formally leave the Court on 31 December.
Mr Visser's farewell was extraordinary in more than one way: not only is he the first President since 1814 not to stand down owing to retirement or death, but it was also the first Board meeting since 1814 to which all staff members were invited.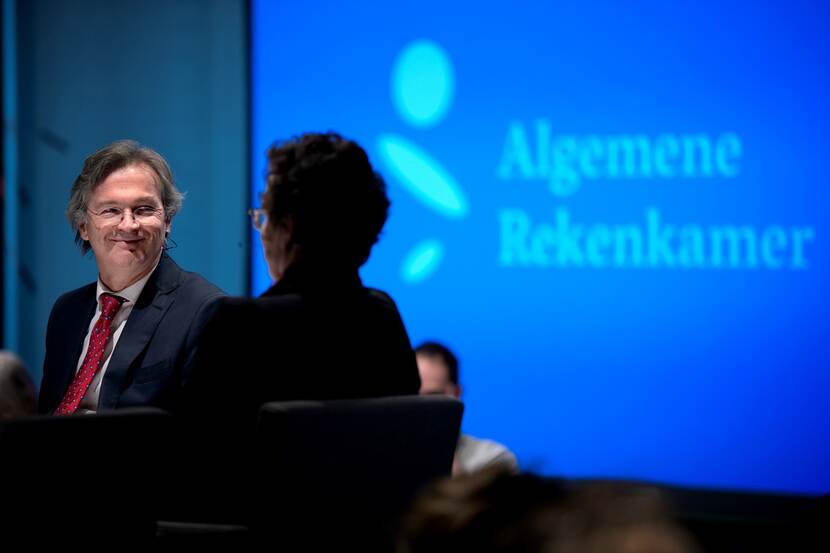 The power of imagination
In his farewell speech, Mr Visser told the Court's staff how important imagination is in their work. 'Because the Court of Audit's task is to be an instrument of self-reflection. And you succeed in it by saying something, writing about and visualising reality, and by making sure you are read, heard and seen.'

Mr Visser went on to explain that a report has the same kind of function as a painting or novel. 'It says something about the real world but it is not the reality. It is a product of imagination that makes you think. And the imagined world is allowed to be disruptive and troublesome.'
Search for new Board member
The Court of Audit will soon start its search for a new Board member. How the process will unfold is laid down in the Government Accounts Act 2016. Following the appointment of a new member, a new President will be appointed from among the members.
About the Netherlands Court of Audit
The Netherlands Court of Audit checks whether the Dutch government spends public money economically, efficiently and effectively. The institution is a High Council of State with an independent position laid down in the Constitution. The Board is made up of three persons. Besides President Arno Visser, its members are Ewout Irrgang and Barbara Joziasse.