Netherlands Court of Audit presents inaugural Thesis Prize to historian Timen Sijens
Timen Sijens (Groningen University) has won the Netherlands Court of Audit's very first Thesis Prize for his thesis on the quality of higher education. The thesis stood out for its exposé of the tension between the return on investment in education on the one hand and the quality of education on the other.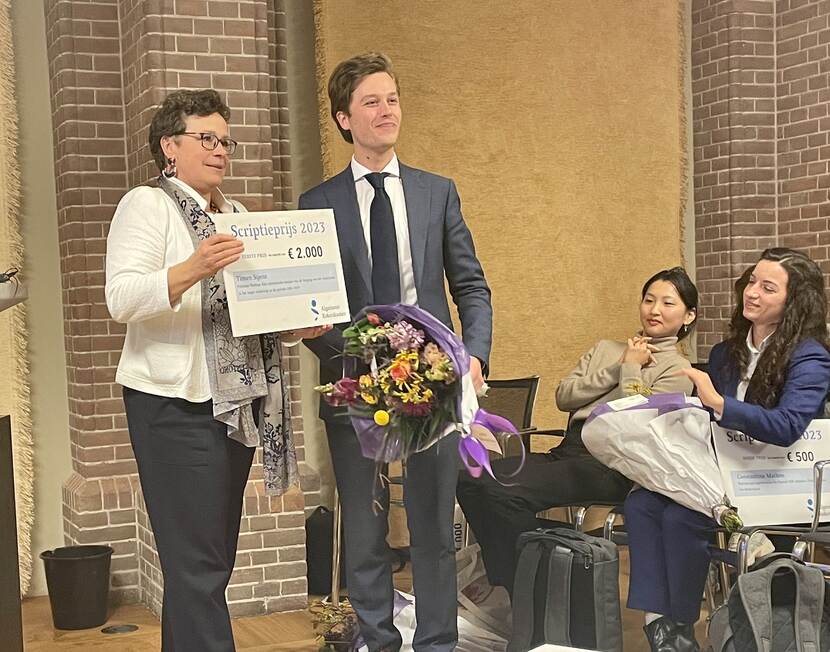 Sijens' master's thesis is entitled, Publieke Werken: Een systemische analyse van de borging van het eindniveau in het hoger onderwijs in de periode 1985-2019 [Public Works: A systematic analysis of the assurances in place for the final level of higher education in the period 1985-2019]. He received the Thesis Prize from the Court of Audit's Board member Barbara Joziasse on 16 February 2023.
Second prize was awarded to Minya Chan (Leiden University) for her study of the Court's audit work and its impact, and the third prize was won by Constantina Markou (Radboud University) for her study on the measurement of welfare.

The Court of Audit recognises the importance of close ties with universities and students, especially to share knowledge. The Thesis Prize is one of its initiatives to strengthen cooperation with academic knowledge institutions and students.
For more information on the Thesis Prize see: The Netherlands Court of Audit Thesis Prize