Design sprint
The Design Sprint method was developed by Jake Knapp (Google Ventures) in 2016. Organisations can use it to analyse and solve a challenge or problem and test the outcomes with end users in order to identify products and/or services that meet their needs in a short period of time (one week). The method differs from the Court's customary methods and processes. We used the method for the first time in the summer of 2021.
What is a Design Sprint?
A Design Sprint takes 5 days, with the following elements per day: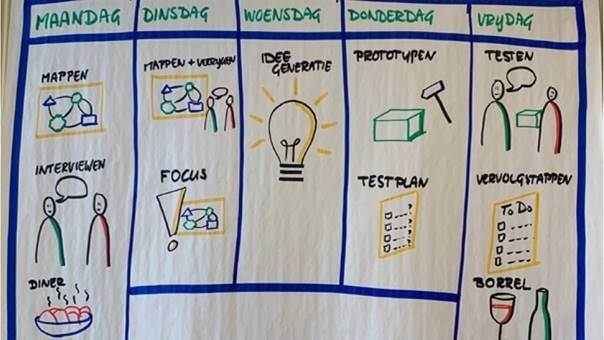 We held our first week-long Design Sprint, taking the theme of Energy Transition, in the summer of 2021. The figure above shows the steps we took during the week. On Monday we mapped out the question and held interviews to add to the knowledge we already had. On Tuesday we sharpened our focus by refining and making a selection from the available options. On Wednesday we explored several lines of thought and selected the one that best matched our audit subject. On Thursday we fleshed out the preferred line of thought in the form of a physical object (a prototype). On Friday we tested the prototype.
In essence the Design Sprint method is a walk-through process consisting of two steps: divergence (collection) and convergence (decision-making). It also entails the construction and testing of a prototype [link to our site on the prototype, already approved and published]. Other key features of the method are that it is subject to strict time constraints, it makes knowledge visible and tangible and does justice to a variety of perspectives in a multidisciplinary team (auditors and designers).
Lessons learned from the Design Sprint method
We learned the following lessons from using the Design Sprint method in an audit:
The team collected a great deal of knowledge on the audit subject in a short period of time by sharing and structuring information quickly and collaboratively (divergence). This way of working is very effective at the beginning of the audit process, for instance to gain a thorough understanding of the audit subject and to make a joint audit proposal.
The method has a positive impact on team spirit because the process is undertaken collaboratively in a defined period of time.
The prototypes and tests make the often complex audit results concrete. The prototype can be used in talks or interviews with other parties or to decide on the angle to be taken for a report and/or by-product.
By using the Design Sprint method the Court of Audit gained experience in how auditors and designers can work together and how they can work with a prototype. We want to use modified versions of the method in our work, for instance during an audit's exploratory phase and when programming focus investigations.