Unclear whether central government policy is boosting equal opportunities for MBO students
Are measures and extra funding benefiting the most vulnerable young people?
The Minister of Education, Culture and Science previously introduced measures and made extra funding available to help achieve equal opportunities for students in vocational (MBO) education. For the coming years, and on top of the existing MBO budget, an extra €4 billion is now being provided to improve equality of opportunity, among other things. A Court of Audit investigation has found, however, that it is unclear as to whether the policy is working, with neither the minister nor the MBO institutions able to establish whether the various measures are actually benefiting the most vulnerable young people.
During its investigation the Court of Audit spoke to MBO students, tutors, policy officers and managers, as well as with employers offering internships. As detailed in the report Gelijke kansen in het middelbaar beroepsonderwijs: deel I (Equal Opportunities in Intermediate Vocational Education, Part I), published on 12 September 2023, the Court looked into day-to-day practice at seven MBO institutions. It is not clear how many of the over 484,000 MBO students face unequal opportunities, partly because of the major differences in their educational levels, backgrounds and other characteristics. Back in 2016, however, the Inspector of Education found that children of parents with lower incomes, lower levels of education or a migration background were more likely to experience inequality of opportunity in education.
Varying levels of extra support for students
The Court of Audit's investigation found that whether students got the extra support they needed varied, depending on the institution and, in practice, also on individual tutors, mentors and internship coordinators. This was confirmed by students themselves, but also by teaching staff and work placement organisations. And these differences can mean that some vocational students' weaker starting position, whether because of their home situation or otherwise, simply persists. The Court of Audit spoke to 310 students, who regularly indicated that teaching staff took little if any action in response to their signalling of internship discrimination or a lack of employer guidance and support during work placements. Students also reported finding it difficult to report such issues. 
Weak foundations make it harder for students to find the most suitable education. And that  makes their whole school career more challenging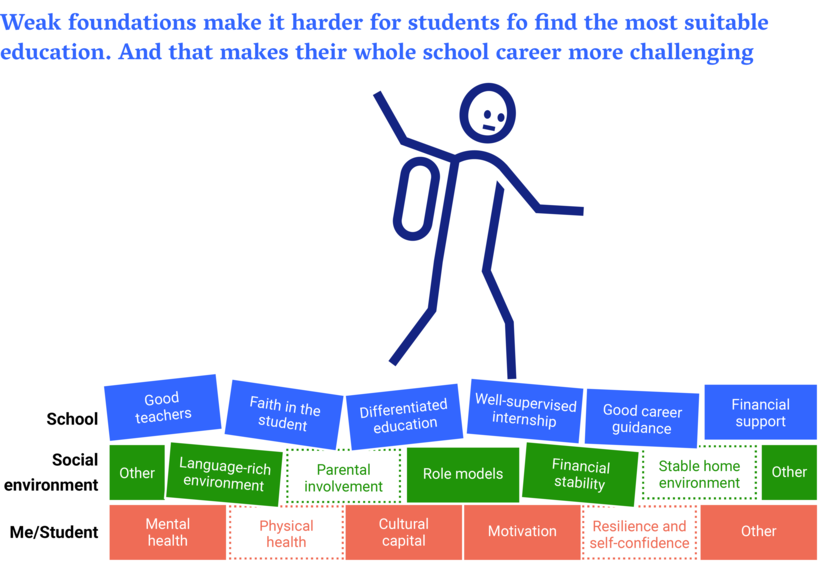 Differences between and within MBO institutions are possible, given that institutions are free to spend their budgets as they see fit and also to determine their approach and the resources they devote to reducing inequality. Over the past four years, and on top of the normal annual budget of €3.9 billion, the minister has made an extra €1.6 billion available for promoting greater equality of opportunities. For the next few years the minister is now proposing extra funding of over €4 billion to help MBO institutions improve aspects such as equality of opportunity.
Which groups is the minister's policy designed to help?
The minister has not clearly described what he understands by equality of opportunity, nor the groups of students that his measures and the additional funds are intended to help. It is also unclear whether these measures and funds are being used for these and other vulnerable students, and whether they have actually helped them. As a result, neither the minister nor the MBO institutions' boards can be certain about what helps students to find education programmes and internships that suit them and that they are able to complete successfully. 
.
Letter to the MBO Council and second publication: Along with this publication, the Court of Audit is writing to advise all MBO institutions of various aspects to take into account when seeking to create greater equality of opportunity in the years to 2027. The institutions have to submit their quality agendas to the Minister of Education, Culture and Science – focusing, among other things, on equal opportunities –by 1 October 2023. 
Part 2 of this Court of Audit investigation, which is scheduled for February 2024, will include employers' views on internships, as well as extensive data analyses and discussion of possible opportunities for improvements.