Diversity in permanent government advisory boards
The increase in female members of government advisory bodies has stagnated. In the past ten years the percentage has been remained stubbornly at 38%. The proportion of members with a migration background has fallen from 10% in 2010 to 4% in 2016. The legal provision that government advisory boards should have a proportionate number of women and people from an ethnic or cultural background has not yet had the desired effect.

Percentage of female members has stagnated since 2011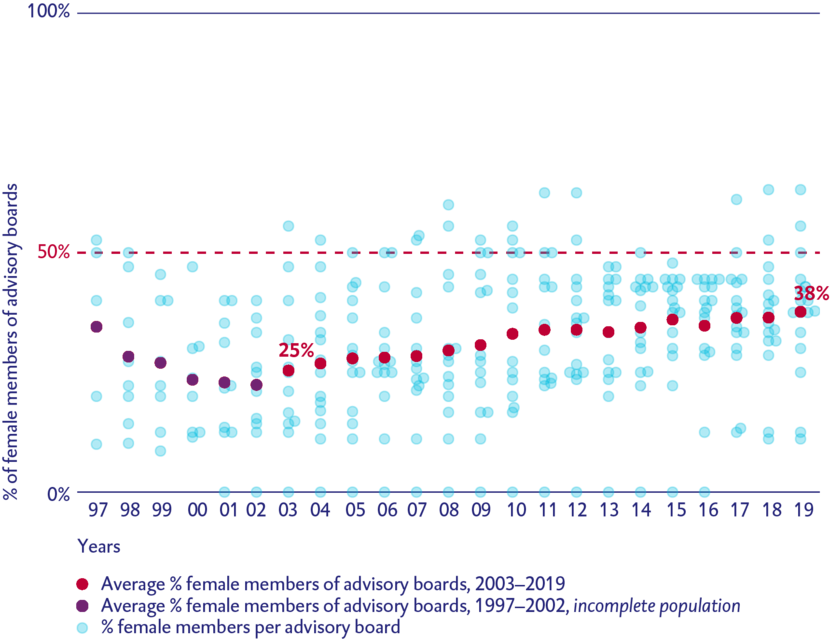 These findings are presented in an audit of the diversity of 17 permanent government advisory boards carried out by the Netherlands Court of Audit. The Court wanted the audit to show how actively the government, where it is responsible for appointments, seeks a balanced representation of women and persons from ethnic and cultural minority groups.
The Court concludes in the report that 'the increase in the number of female members of permanent advisory boards is stagnating' and that 'ethnic and cultural minorities are not in the picture'. If advisory boards are to be a reflection of society, the male/female balance would be 50/50 and the number of members from ethnic or cultural minorities would be 10%.

Why did we carry out this audit?

The Advisory Boards Framework Act of 1997 requires advisory boards to seek the proportionate representation of women and people from an ethnic or cultural background. We investigated how the government and the boards have implemented this requirement and what the results have been. The purpose of our audit was to draw attention to this issue and stimulate debate. We therefore do not express an opinion or make recommendations in the report.

Current status

The report was published at 17.00 hours on 26 September 2019.