Speech by Mr Ewout Irrgang, Vice President Netherlands Court of Audit, at the The World Justice Forum -2022 in The Hague
Session organized by IDI: "Challenges and Trends for Accountability Institutions"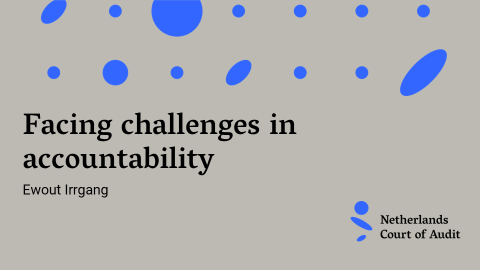 Good afternoon everybody. My name is Ewout Irrgang and I am currently Vice President at the Netherlands Court of Audit. 
Before I start, I would like to introduce my two guests from Libya, who accompany me today: Mr Kaled Ahmed  Shekshek, President of the Libyan Audit Bureau, and  Mr. Alaeldin Mansour El Masallati, the Vice President. Later in my contribution I will explain why they are here today. 

I have been asked by IDI to share with you some of insights from our Supreme Audit Institutions practice on how independent auditing can promote accountability and good governance. 
Public money requires public accountability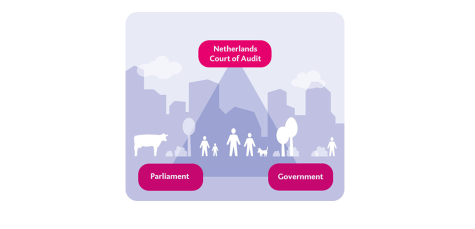 I guess my audience today are mainly non-auditors, so let me start by introducing the Netherlands Court of Audit, the Supreme Audit Institution of The Netherlands. We play a pivotal role in the accountability of the government towards the Dutch citizens and tax payers. The Court of Audit's mission is to investigate whether the government spends public money correctly, effectively and efficiently. 'Court' in our name is a remnant of our long history. We have no judicial power of enforcement. Our main accountability partner is Parliament. All our reports are public and addressed to Parliament. That is where accountability of the Dutch central government has its place. Our existence and independence is grounded in the Dutch Constitution. 

However, the word 'Supreme' in 'Supreme Audit Institution' doesn't mean that we are above the turbulence of our time and our role and position is safe. We need to show our relevance time and again. To be effective we need to be heard in a political and societal environment where 'fake news' is common, a trusted institution to present real facts has added value.
Trust in Accountability: Highlights NCA's Strategy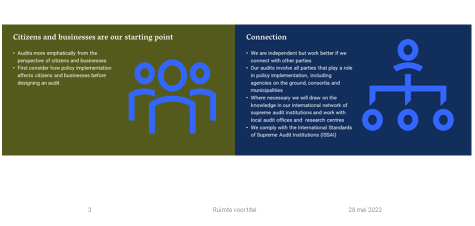 Spending public money should first and foremost benefit our citizens. Therefore in our current strategy we aim to approach our audits from the perspective of citizens and businesses and keep the consequences of government policies for citizens right into the centre of our work.

Also, supreme and independent doesn't mean looking down to earth from our ivory tower. We connect. With other accountability partners and knowledge partners; with citizens and civil society organisations; with our auditees and with Supreme Audit Institutions  in other countries. This way we keep innovating and learn from and with others. I will give you some examples.
Working together to strengthen the message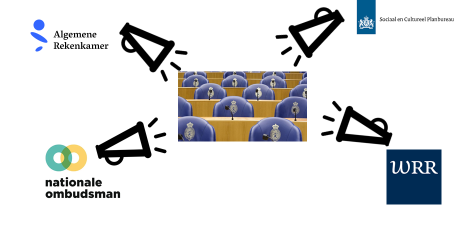 In order to learn around a topic and gather valuable information during an audit we often involve experts and civil society to gather relevant data and knowledge. Sometimes we go even further and see if we can work together and for instance synchronise our reports and coordinate our message.

In our 2016 audit Tackling Problem Debt we teamed up with the National Ombudsman and The Netherlands Scientific Council for Government Policy. Each of us doing separate reports on the topic, from each institution's specific perspective and mandate. In the end we coordinated the timing of our separate reports and our messages. And we briefed the Minister and the Parliamentary Committee together, to strengthen the message. 

In 2018 we did something similar around our investigation on access to long-term care. The National Ombudsman and The Netherlands Institute for Social Research concurrently published their reports on this topic with similar outcomes. Together we gave an interview to a national newspaper and launched an appeal to our house of representatives, to ask the government for better access to long term care. This resulted in a motion in parliament to the government.
Developing new norms with experts and auditees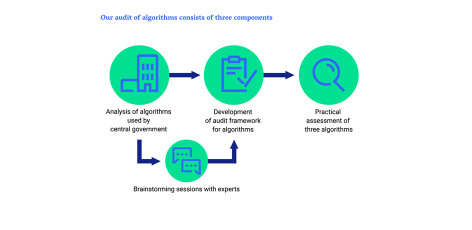 Another example concerns our work on the use of data and algorithms in policy implementation. As in most other countries, the Dutch government has digitized a large part of its administration and, as a result works with large datasets. This allows government entities to work with algorithms when taking decisions and implementing policies. Algorithms are useful and helpful but not without risk. And if something goes wrong, it can have a big impact on the lives of citizens. In 2019 we published our first report 'Understanding algorithms'.

This was the first time we looked at algorithms used by central government. The wide public interest in algorithms has produced many initiatives, standards and guidelines, developed by different stakeholders. We brought these experts together to help us develop a unique audit framework as a practical tool that we intended to use in future audits.
Audit framework for algorithms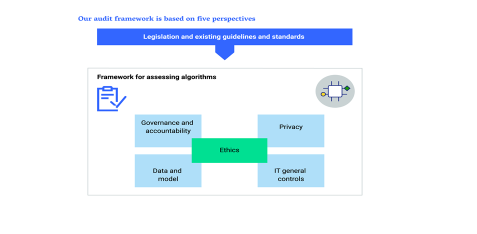 The framework contains five different perspectives for investigating algorithms: governance and accountability; model and data; privacy; IT general controls; and ethics. Rather than constituting a separate aspect, ethics are interwoven with the other four aspects of the framework. 

We applied this framework in a recent audit. We found that 6 out of 9 algorithms we looked at did not meet all the basic requirements and exposed the government to various risks: from inadequate control over the algorithm's performance and impact to bias, data leaks and unauthorised access. For instance the Criminality Anticipation System used by the police to forecast where and when there is a high risk of incidents did not meet any of our key requirements. Clearly a lot still needs to be done in this field.

This audit framework is intended primarily for auditors, but it can also be used right from the start when building an algorithm as input for quality requirements. And of course as a reference for other accountability partners.
Armchair auditors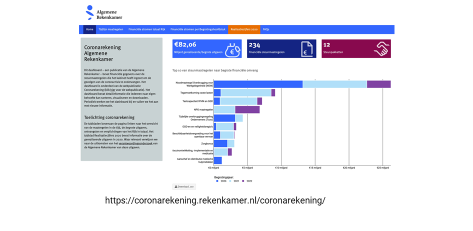 A radical way to improve accountability is to engage with all citizens as 'armchair auditors'. Since mid-2020 the Netherlands Court of Audit has been keeping the so called Corona account, on which we keep track of all the corona crisis measures taken by the central government, their purpose and how much public funds have been spent or budgeted for. Here you see the fifth edition and currently in the 7th update the grand total is 85.5 billion euros.

We offer all these data on an interactive dashboard on which citizens, whether MPs, journalists, or other interested parties, can search and inspect as armchair auditor all the measures and money spent on them. 
Learning with and from other SAIs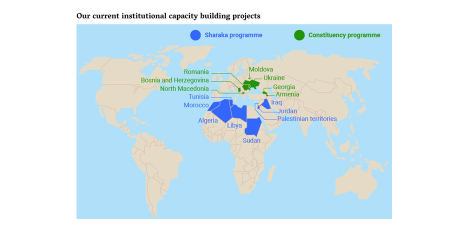 Now I would like to get back to my guests from Libya. As I said in the beginning: Public money requires public accountability. Not just in the Netherlands, but worldwide. Supreme Audit Institutions  worldwide operate in very different political, social and economic environments. But, maybe surprisingly to you, they also have many things in common. They all audit for accountability and try to do that as best as they can. Here we can learn from each other. That is why the NCA is involved in peer-to peer capacity building: professionals and leadership from SAIs working together to become better auditors and better SAIs. 

Our projects are aimed primarily at reinforcing the role, mandate and impact of Supreme Audit Institutions as independent external auditors operating as part of the overall system of public finance and accountability. This is why, before embarking on a partnership project, we always examine the context in which the SAI in question operates, take note of relevant developments and initiatives, and work together with the SAI's stakeholders and strategic partners. We also take the longer-term outlook into account. The context in which our partners operate is often complex, meaning that it takes time to make an impact. We formulate objectives together with our partners at the start of every new project, which we evaluate halfway and at the end of the project. 
Sharaka
Mr Shekshek and mr El Masallati are here in preparation of joining our Sharaka programme. 'Sharaka' means 'partnership' in Arabic and it is currently our longest running programme, focused on countries in the Middle East and North Africa. It is funded by the Dutch Ministry of Foreign Affairs. Since the start of the programme in 2016 we have worked with SAIs from Tunisia, Morocco, Iraq, Jordan, Lebanon, Algeria, Sudan and the Palestinian Territories. And now Libya is joining for the first time. 

With our Libyan colleagues we will be working together on better SDGs performance audits, on applying IntoSAINT, to enable the Libyan Audit Bureau to become an ambassador of integrity and we plan to work together on strengthening our relations with stakeholders and strategic partners.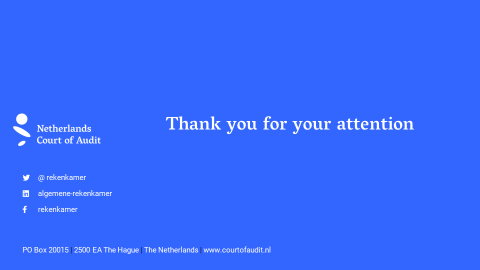 I hope I was able to give you a glimpse into the work we do and I look forward to your questions and our discussion. Thank you.